Description
Intel LGA-1151 ATX mining motherboard with 19 PCIe slots, Triple-ATX12V power delivery, voltage-stabilization capacitors, and mining mode design
World's first 19-slot motherboard for multi-GPU mining
Exclusive triple-ATX12V design and 19 decoupling capacitors for stable power delivery
ASUS PCIe Slot State Detection indicates the status of each GPU connection for easy management and debugging
Unique Mining Mode for hassle-free setup of your mining rig — no BIOS tweaks required
Intel LAN and LANGuard for the best network performance
World's First 19-Slot Mining Motherboard
Max out your megahash rates!
ASUS B250 Mining Expert is the world's first mining motherboard to feature 19 PCI Express® (PCIe®) slots. With 18 PCIe x1 and one PCIe x16 slots on board, plus three zoned ATX12V power connectors, B250 Mining Expert lets you run up to 19 NVIDIA or AMD GPUs* in parallel to max out your megahash rates!
Triple-ATX12V Power Delivery
Engineered to deliver the power your graphics cards need
B250 Mining Expert has been engineered to provide all the power your GPUs demand, cleanly and efficiently. The 19 PCIe slots are grouped into three distinct zones, each powered by its own, dedicated 24-pin ATX12V power connector — reducing wiring complexity and ensuring ample power delivery to all PCIe slots.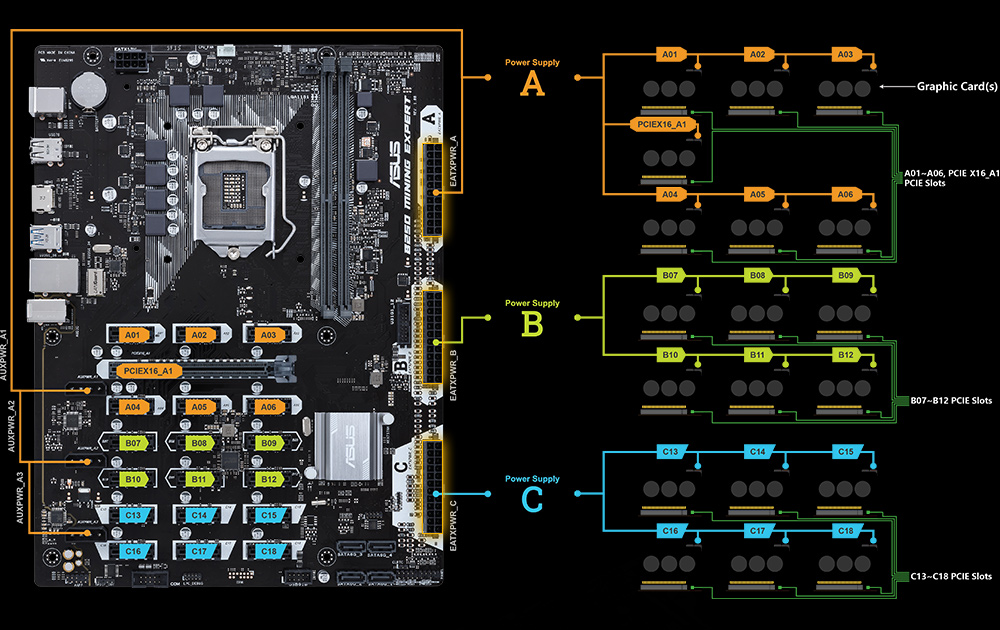 Mining Mode BIOS Optimization
Unlike some rival boards, B250 Mining Expert has a special Mining Mode that's enabled by default, removing the hassle of having to make BIOS-level changes that are necessary to maximize mining performance. Mining Mode sets the PCI Express speed to PCIe 1.0 and disables the Compatibility Support Module, so you get the best stability and compatibility right out of the gate.